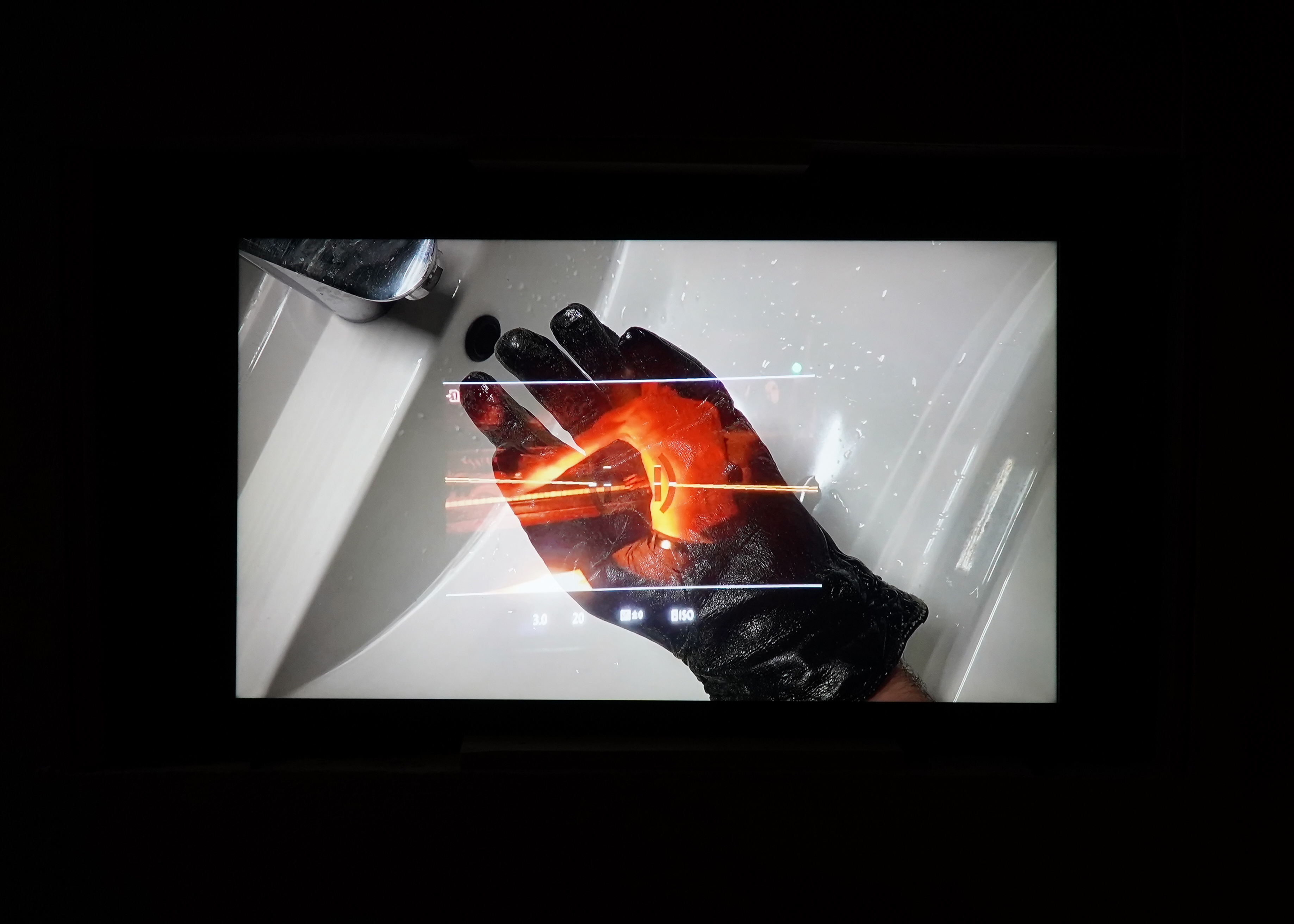 EStudo do meio (18+), 2022
at carpintarias de são lázaro, Lisbon
With Purga
Works:


Red Halos (2023)
An installation of two iPhones on two ring light mobile supports. Playing on one is The Line The Light The Movement The Hand The End (2022), a film I made with footage from a porn show I recorded in one of my last shifts at Union, Vauxhall. Playing on the other is a screen recording of my phone glitching when I searched for a painting I couldn't stop thinking about while recording the footage in Union.
Piano (Tríptico) (2023)
Video, 4m
Anjo (2015)
Oil on canvas
120x80cm
---
---
Tom of Finland Art and Culture Festival, 2022
at Second Home, London
With Ridley Road Project Space
Works:


Mourning framing Pleasure (2022)
Memorial flags for Queen Elizabeth with images captured inside the gay sauna Pleasuredrome, when the venue decided on the day of the Queen's funeral to screen the event on their tv's and offer drinks to the visitors.
---
---
Staying Alive, 2022
at Duplex AIR, Lisbon
Curated by Francisca Portugal
Works:

BEG 1, BEG 2, and BEG3 (2022)
Digital print in domestic printer on plastic bags
A customer's monologue (working in a sexshop, soho 2017) (2020)
Audio work 7:30m
---
---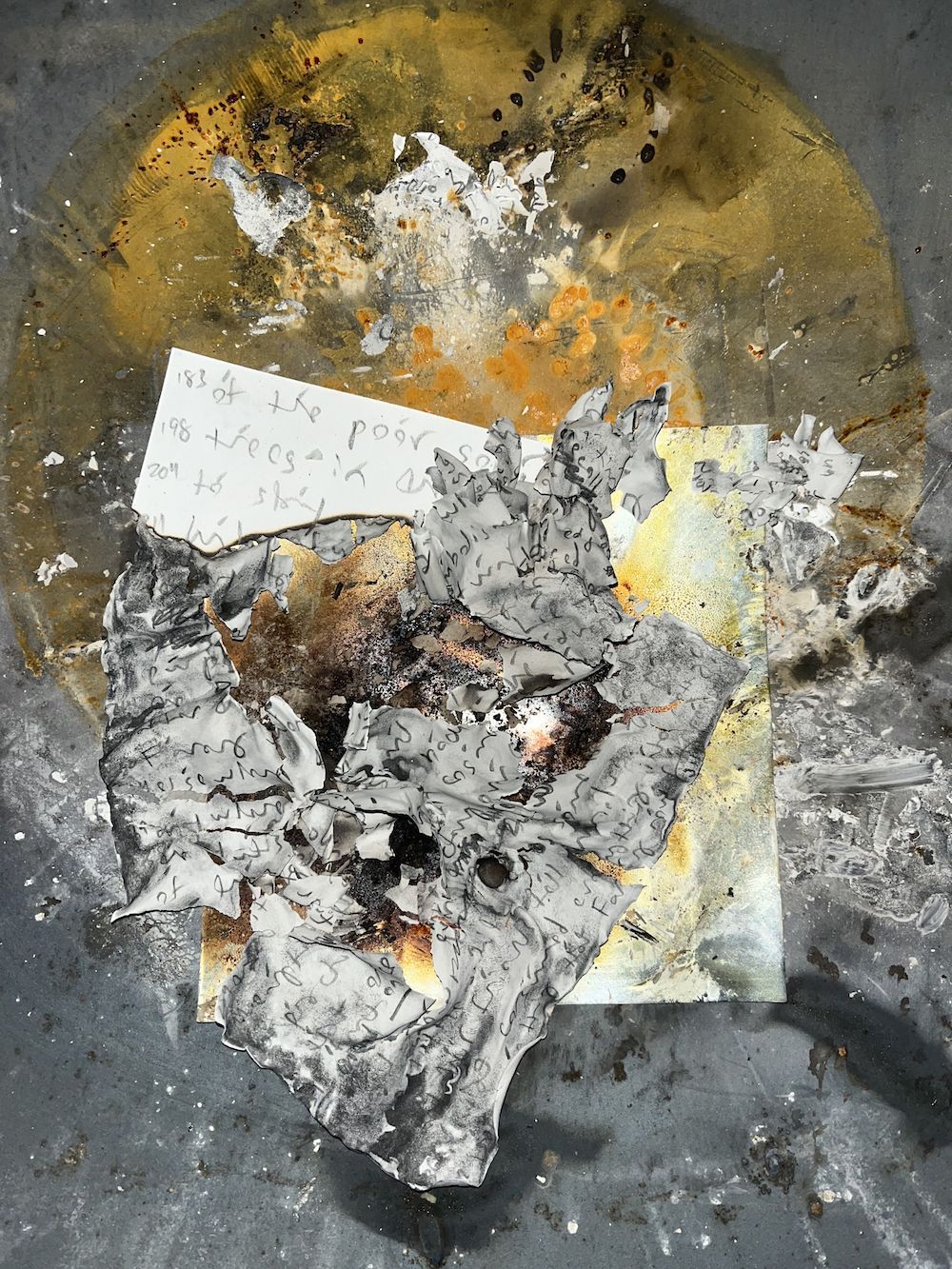 MELTDOWN, 2022
at Ridley Road Project Space
Works:


Contact lens cases from Pleasuredrome sauna's bin (2019)
Contact lens cases and screws on plastic and perspex
---
---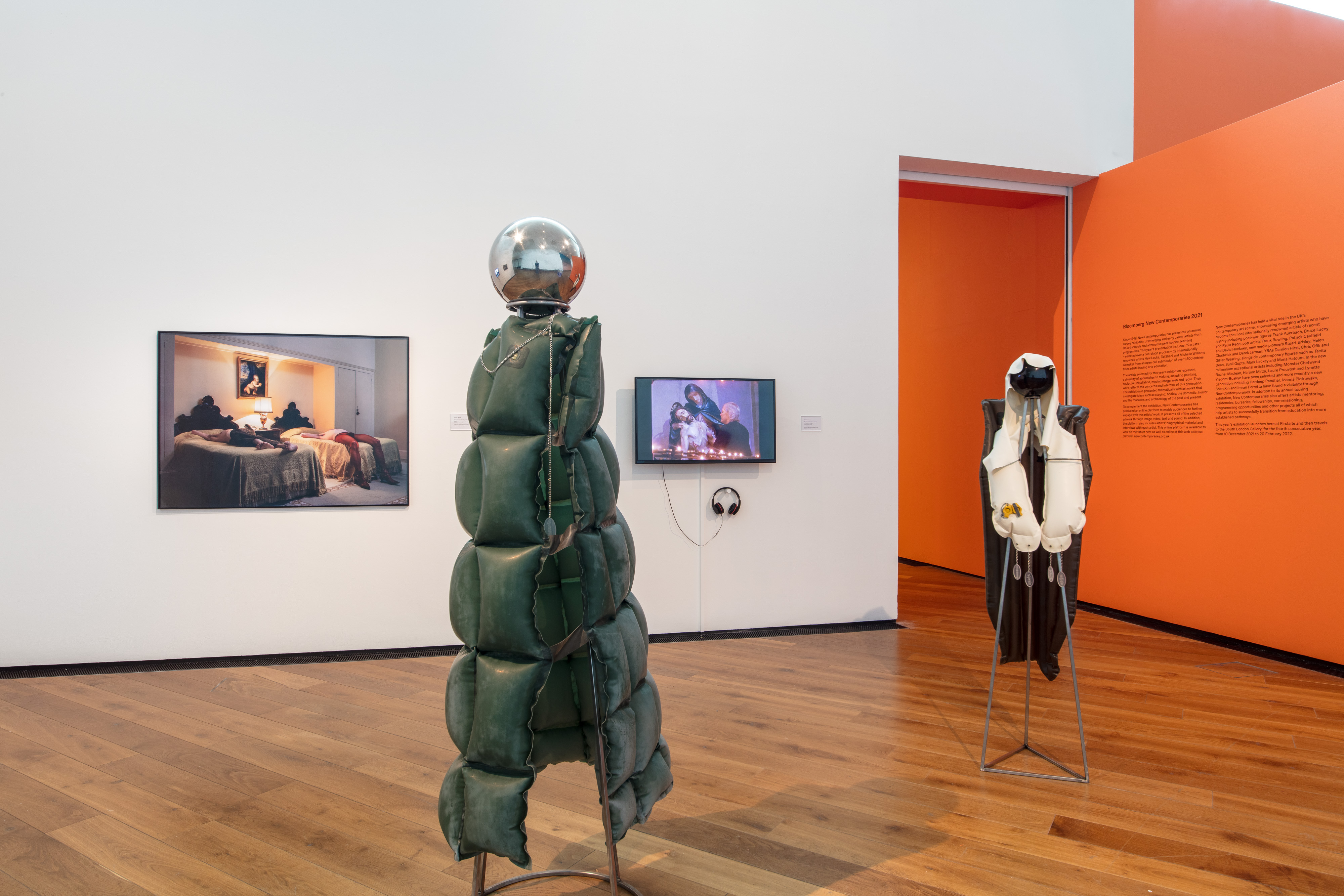 Bloomberg New Contemporaries, 2021

at FirstSite Museum, Colchester and South London Gallery, London
Work:


You are a letter, written not with ink, but with the Spirit, 2019
Film, 4m

Michelle, a trans woman who started transitioning later in her life, finds in faith the strength to welcome her true self.

Installation shot 1: Richard Ivey
Installation shot 2 and 3: Andy Stagg
---
---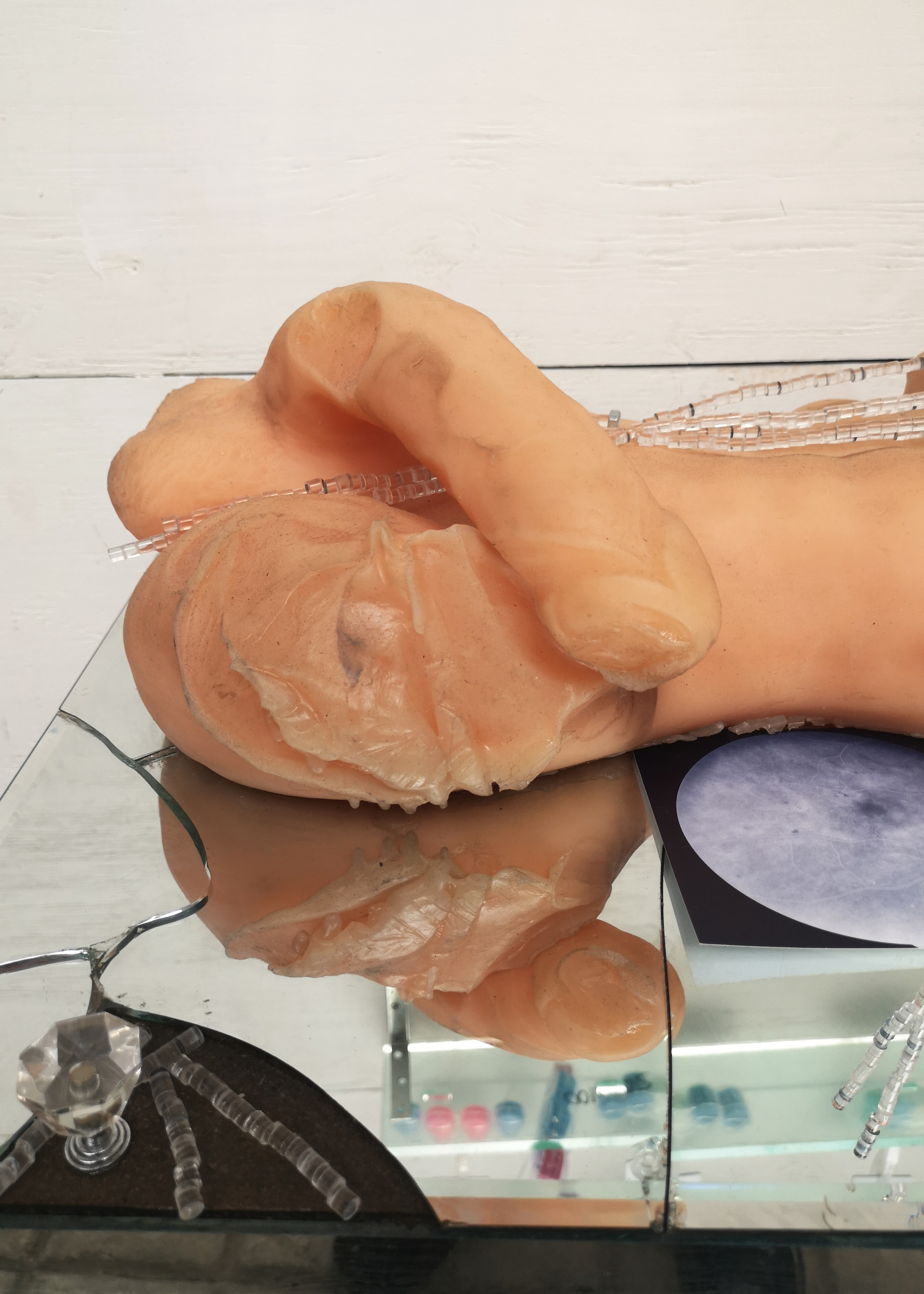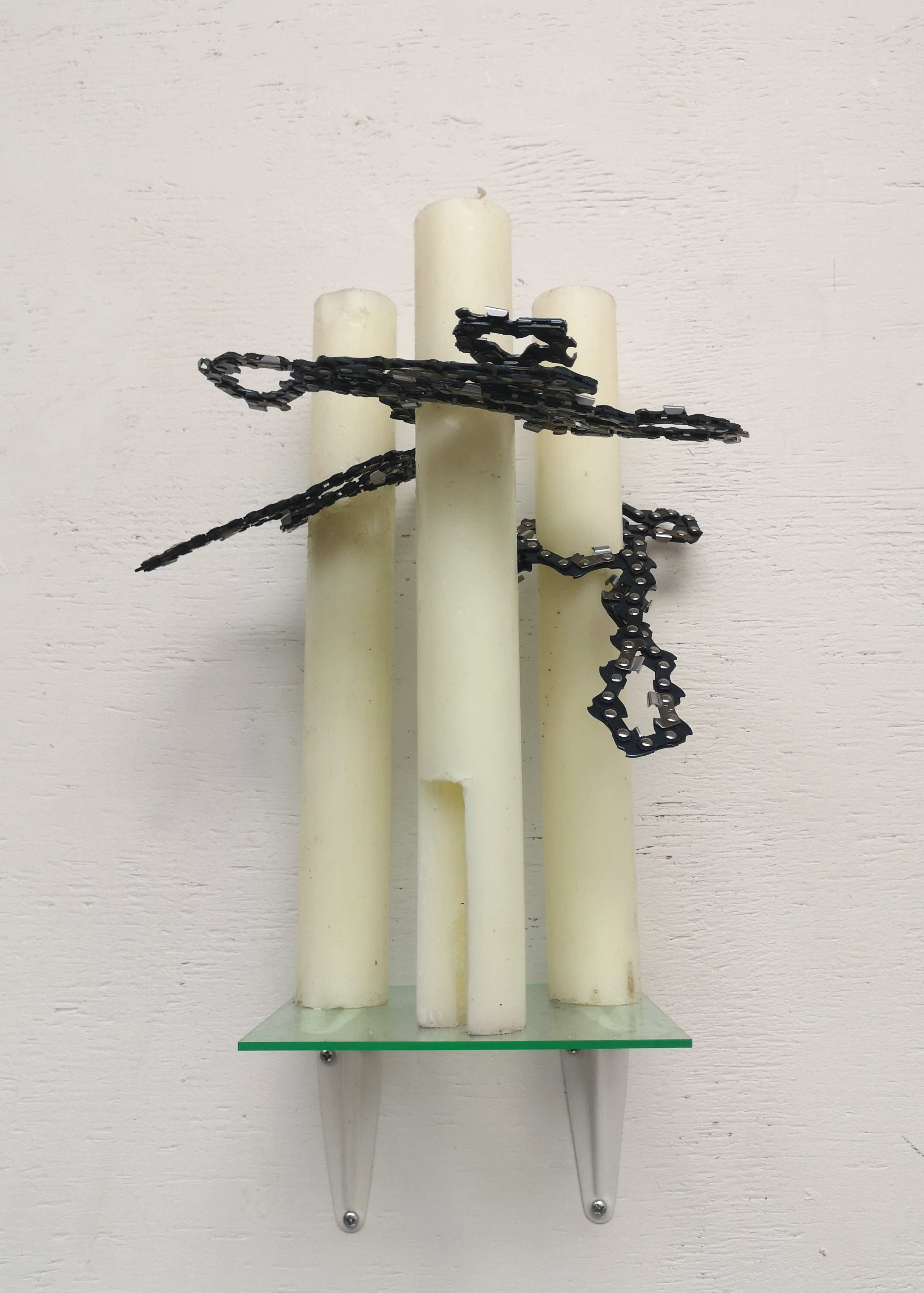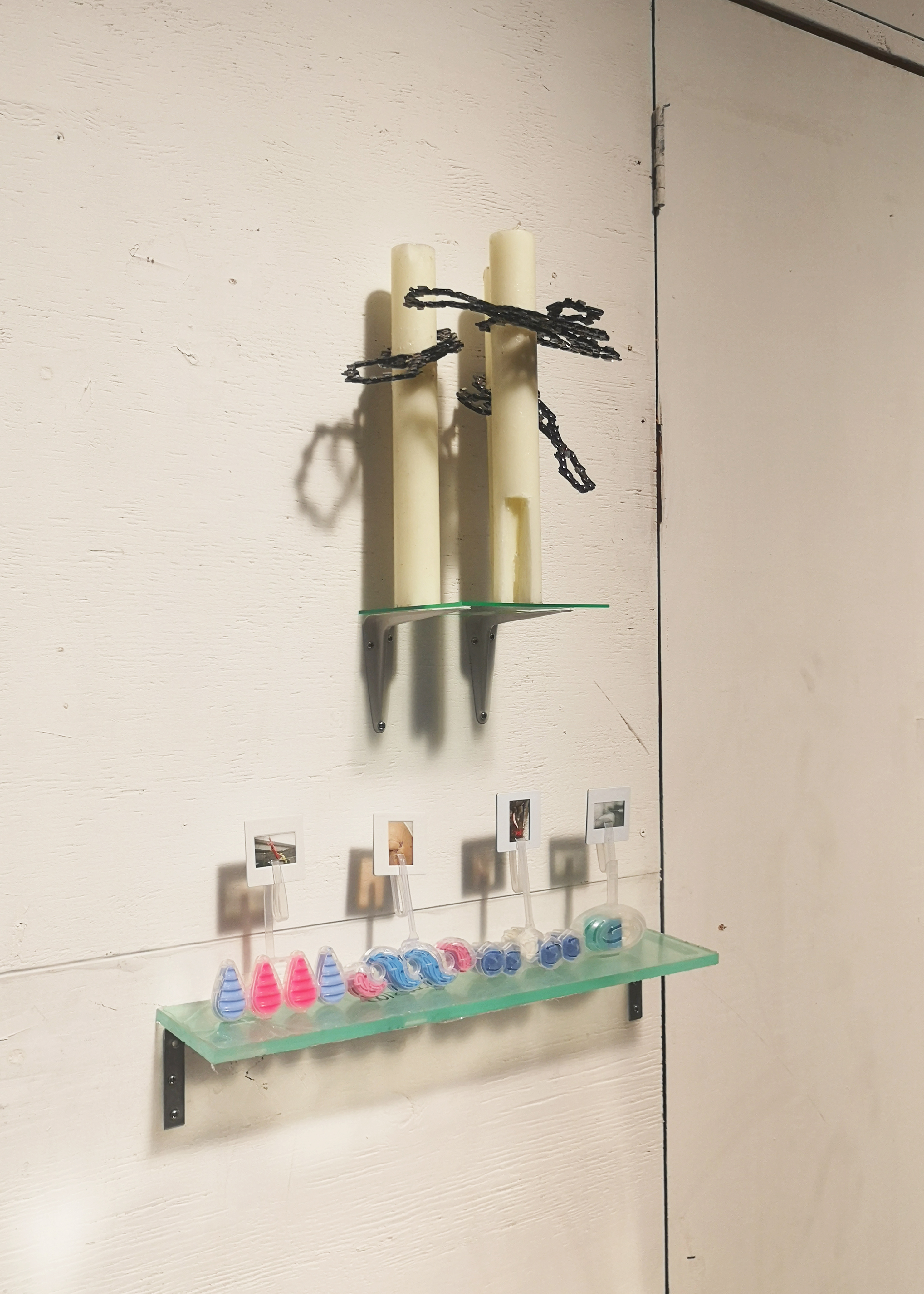 SPNDRFT, 2021
at ArtSect Gallery, London
Exclamatory, 2021
Digital print on paper, candles, chainsaw chains, slides,
toilet fresheners, silicone sex torso, acrylic, mirrored chest of
drawers, iPad, eye examinations
Installation: Dimensions variable

Press release
---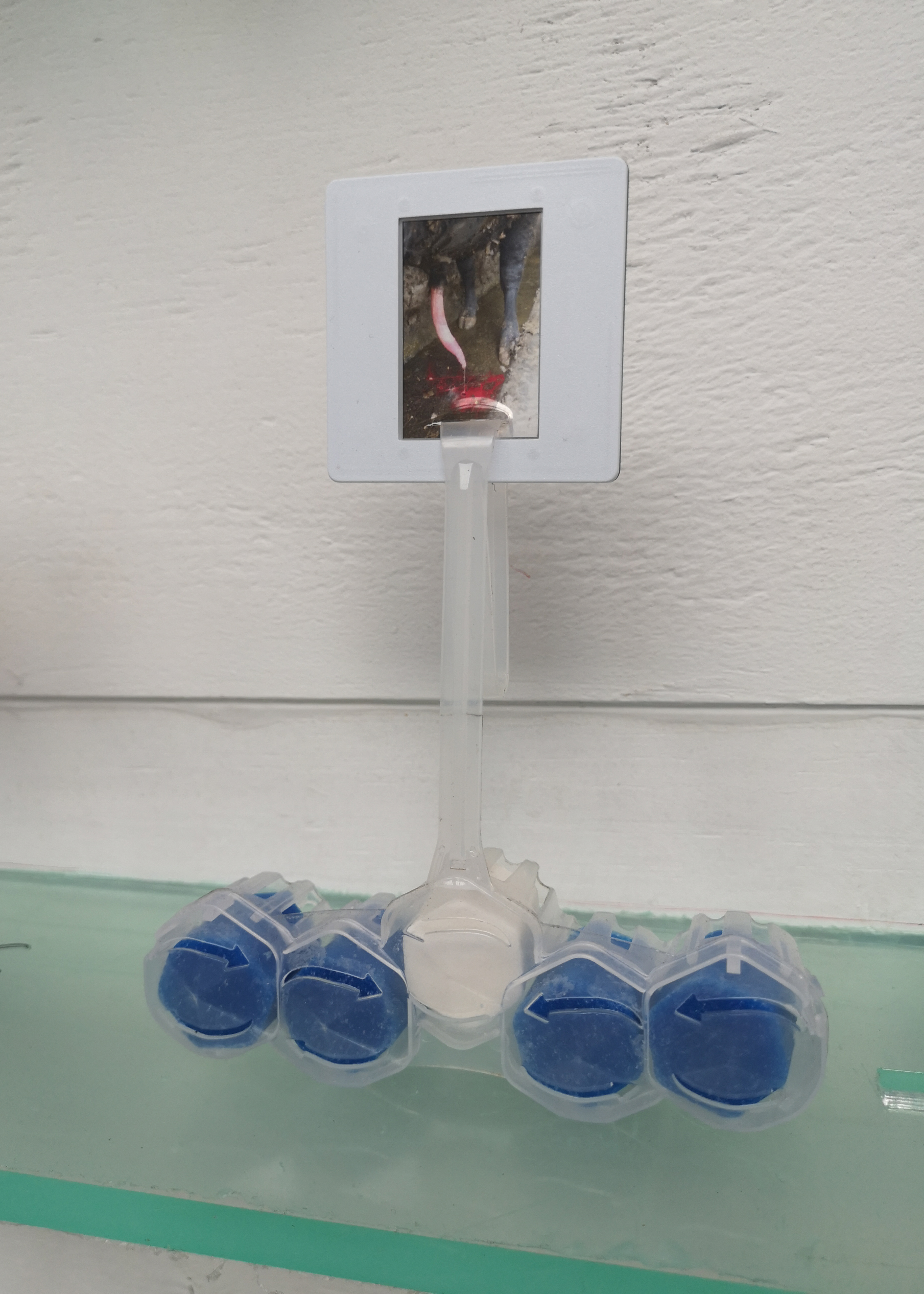 ---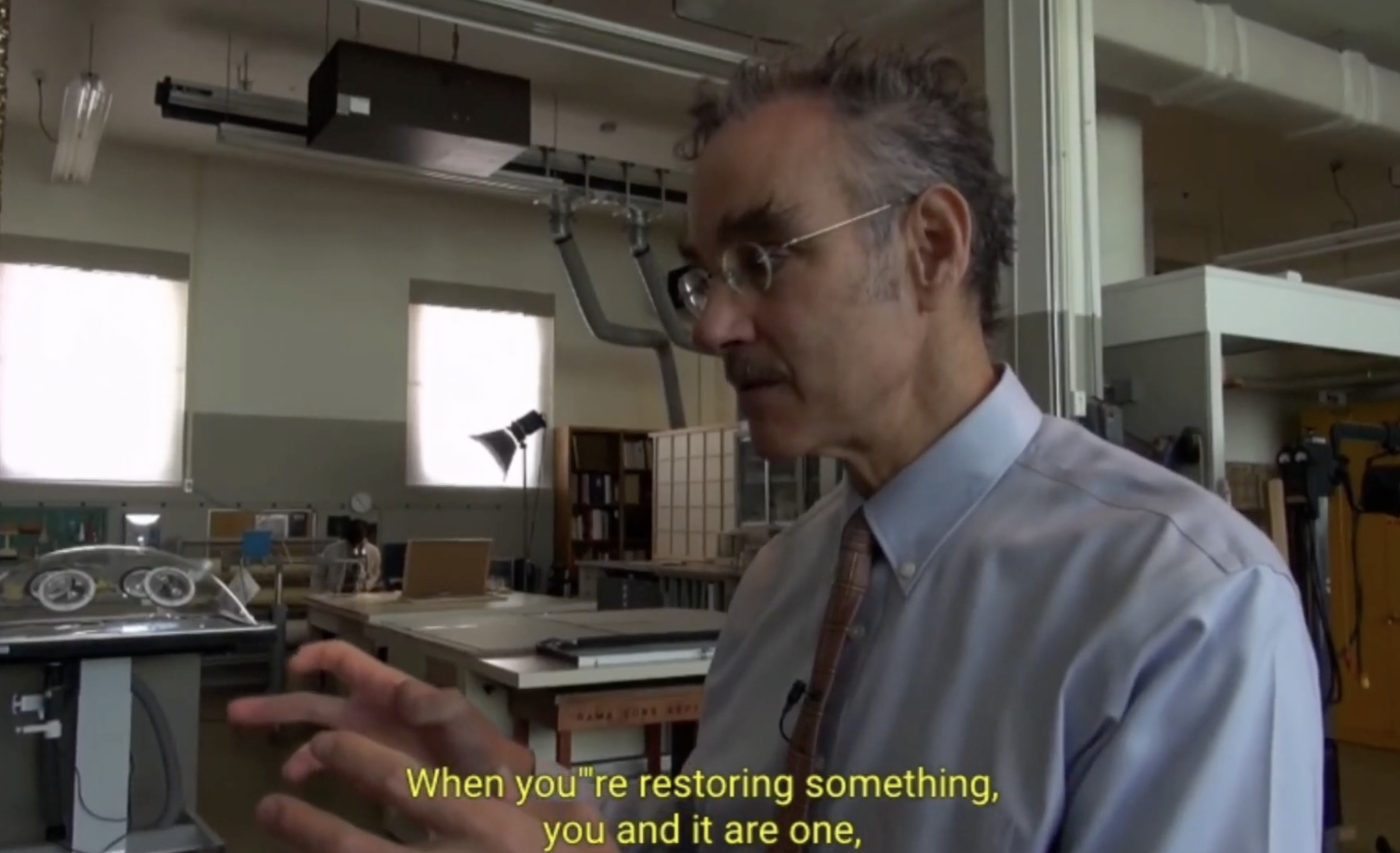 Entre o Real e a Imagem, 2021
at Casa do Capitão, Lisbon

Curated by CINENOVA

Works:
Rest Oration (El Greco), 2020
Video, 8m

Rest Oration (El Greco) imagines a fictitious restoration of a painting while giving it a life of its own. Produced during the pandemic period, while museums are closed to the public, the film suggests a time for broader restoration.

Part of the project Speaking in Tongues 2020, a performance-based project devised by Fine Art students of Central Saint Martins developed in a partnership with The National Gallery, London's Learning & National Programmes.
Installation shots: CineNova Festival
---
---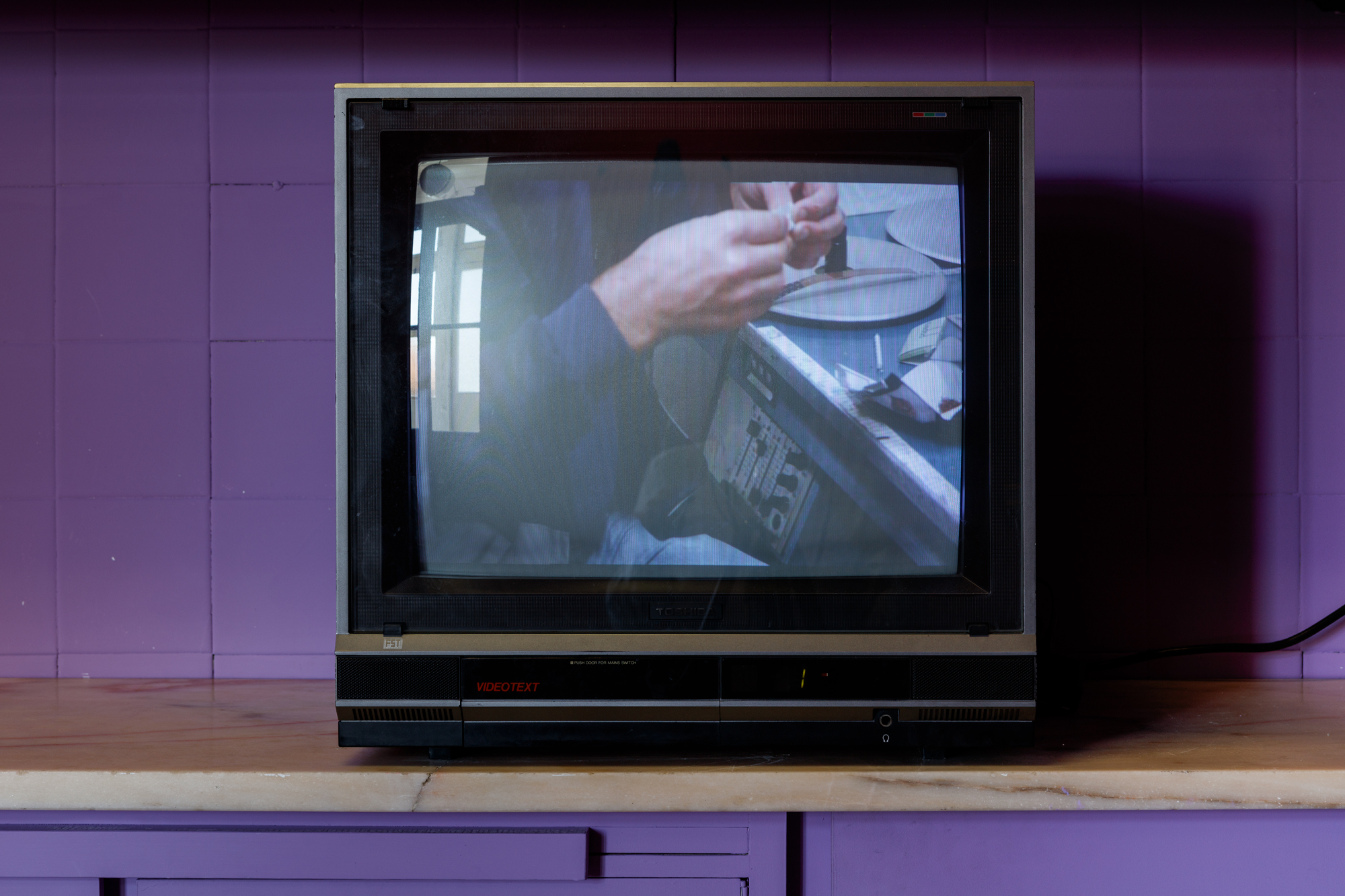 A HUNTED TIME, 2021
at Casa do Capitão, Lisbon

Works:


FILTERS (or, Sigils, Ichthus, and their liminal smoke), 2021
Film, 17m
16mm and digital

A film about filters. In the literal way, referring to cigarette filters and their packaging, and in the metaphorical way, addressing individual's subjectivities and filtered truths. With this in mind, the film leads us into a hypnotic experience that takes our senses to the position of subjects, part of the cast, dancing in slow motion, a waltz with these signs.
---
---
I Will Take The Risk, 2020
at AZAN Space, Lisbon
part of Lisbon Art Weekend

Curator: Tomaz Hipólito

Works:


Perpetual Explosion, 2020
Video, 4m

Perpetual Explosion observes the actions involved with closing a shift at working in a petrol station and offers a new and final act that threatens the understanding of the event -- the act leads us to reflect on economies of value.
What would happen if the chain is broken? Is the small act of rupturing everyday ritual(s) of consumption/production in itself an act of exorcism, insurgence?
Installation shots: Paulo Dinis
---
---
CSM Open studios, 2019
at Central Saint Martins, London


Works:


Preyer, 2019
Fisting dildo and eye examination slides on a light pad
80 x 50 x 40cm

An urge to cross two symbols — the interior of vision(s) and its nerves, and the praying hand of fetish — and laying them in the same examination layer. The light pad gives life to the images taken through the holes in the eyes, when pupils are stretched. The light pad also gives the illusion that the hole-stretching hands are levitating from the brightness.

At being positioned on the floor, where the sex toy would probably be, I call the viewers to put their faces closer to the floor and their eyes down, in a similar position to praying, or playing… To examine ideas of stretch.
---
---
---
Come Together: Tate Exchange, 2019
at TATE Modern, London

Works:


CareFull, 2015
Video, 3m
A Dance between a fly and an eye, conversing through spasmic codes.


ProGlide, 2014
Video, 4m
A Dance between blades, using the throat's interior and exterior as its stage.
---
---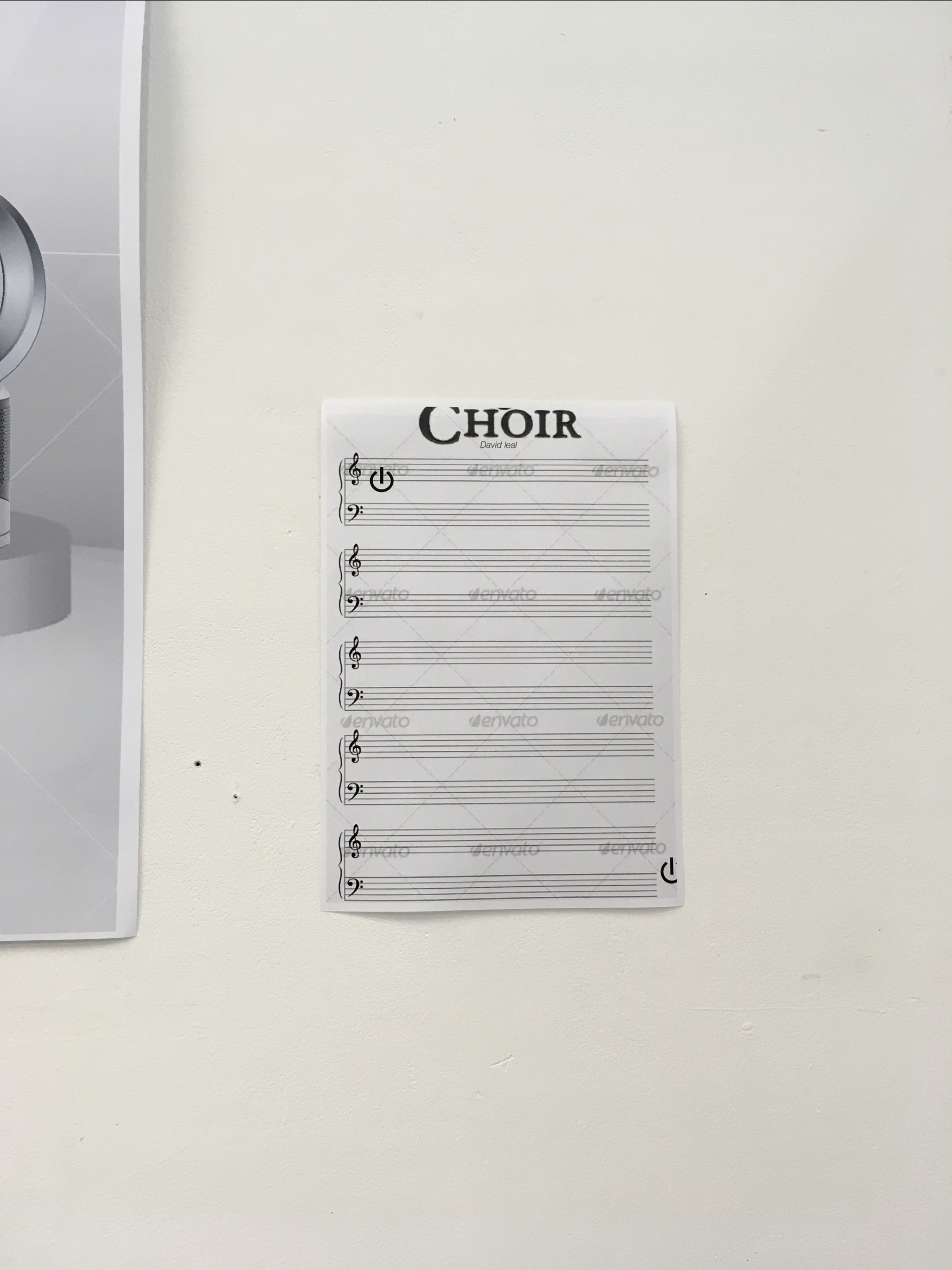 CSM Sound Event, 2019
at central saint martins, london


Work:


Choir (2018)
Posters
Dimensions variable
---
---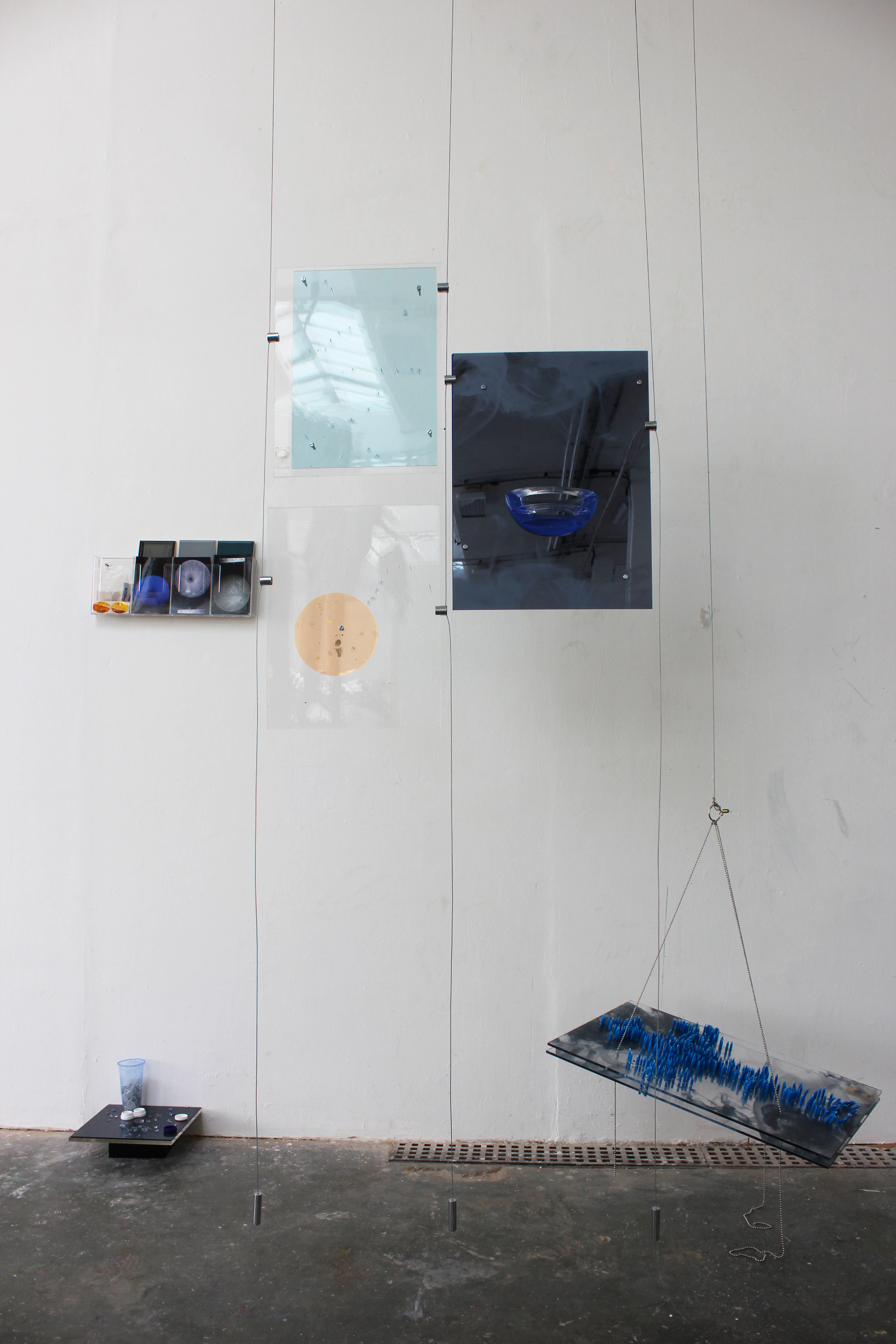 Wonky Donky, 2018
at Camberwell College of Arts, London


Works:


Lens, Chalice, Censer, 2018
Contact lenses, needles, eye examinations and candles on acrylic display supports.
Installation, Dimensions variable.
---
---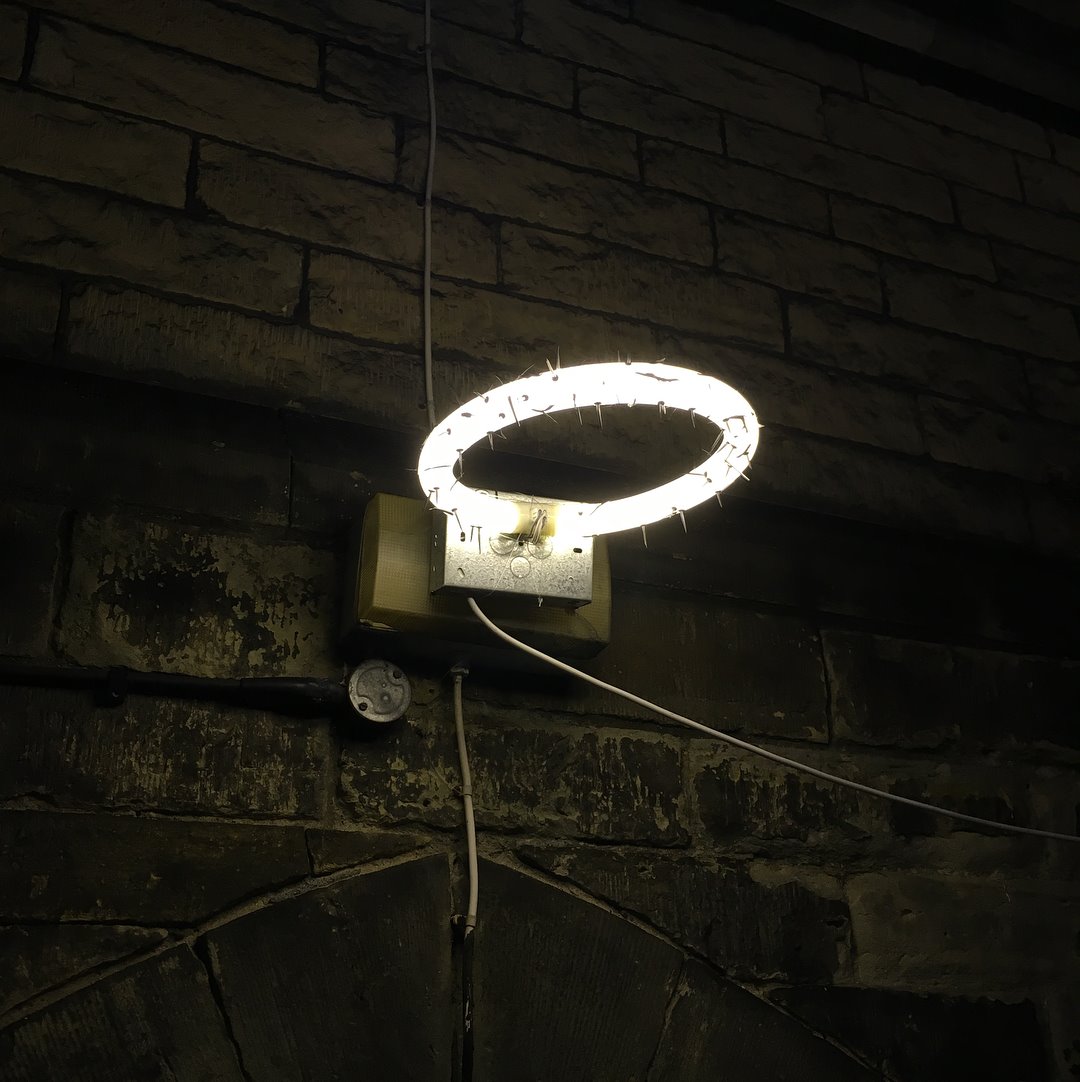 Crypt O' Night, 2017
at Saint Giles Church, London


Works:


,(O)´ , 2017
Metal nails on fluorescent light
45 x 15 x 45 cm
---
---